【English Program】 A first aid course for beginners
2017.08.10
[A first aid course for beginners will be held in English]
(Registration Deadline: August 24)
At the Shinjuku Disaster Prevention Festa 2017, a first aid course for beginners will be held in English to help build a supportive community that can overcome barriers related to nationality and language during a disaster. The Shinjuku Fire Department together with interpreters will be there to support participants, and as this is a valuable opportunity to have this first aid course in English, we ask for your support in participating.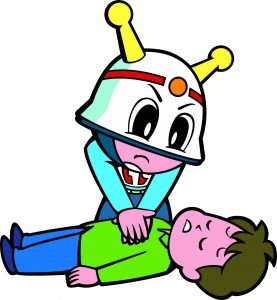 [First Aid Course for Beginners]
Date: 3rd September 2017
Time: 10:30-11:30
Max.Capacity:50 people
Location: 1st Floor, Shinjuku Sports Center, inside Toyama Koen, Tokyo
(Takadanobaba Station, Okubo 3-chome)
Instructor: Shinjuku Fire Department
Content: Chest compression and AED (Automated External Defibrillators) training.
Participation Fee: FREE!!
Other Points:
– *This will be held at the "Shinjuku Bosai Festa" – http://bosai-festa.com/
– Those who complete the 1-hour training will receive a certification from Tokyo Fire Department.
– Please wear comfortable clothes on the day of training.
– Please arrive at 10:20 a.m. on site
Application:
Please send the following details to " tracy@pbv.or.jp "
1. Name (in Romaji and Japanese Katakana)
2. Nationality
3. Sex (Male/Female/Other)
4. Telephone Number (Contactable on the day of training)
* Places will fill up quickly and will be allocated on a first-come first-served basis.
** Space is limited – no cancellations please.
*Illustration by Tokyo Fire Department